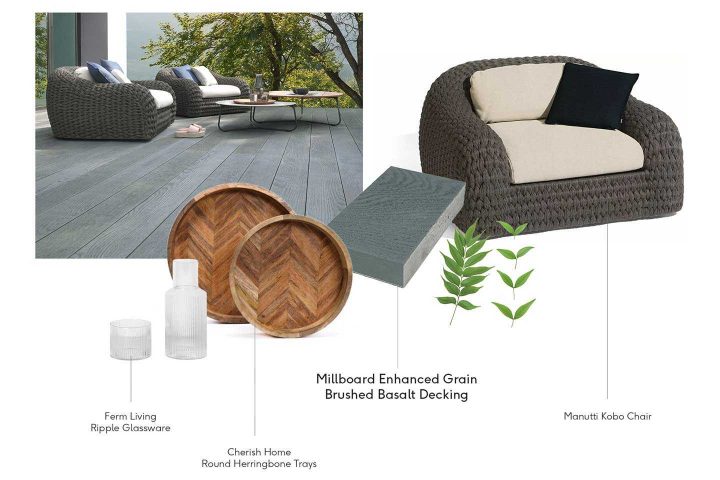 Millboard's Enhanced Grain Brushed Basalt is a glamorous blue-grey. The colour and grain detail is mesmerising and interplays beautifully with other cool and contemporary tones, the perfect accompaniment to the popular and contemporary anthracite windows and doors available on the market.
When choosing how to style your deck, as it is often the hub of the garden for socialising, think first about how you will use your decking. Will it be a place to catch up with friends and relax, or to host dinner parties, or large evening gatherings? We have chosen the former, but no matter what you have in mind for the use of your decking, think first about seating.
For furniture, we love the Manutti Kobo chairs, a chunky, robust chair that is comfortable and offers a fantastic centre piece. The curved lines bring a touch of modernity to your decking, whilst the hand-woven rope ties back to a traditional feel, much like the modern yet traditional feel of the Enhanced Grain range.
Next, complement your seating arrangement with a side table, offering a place for family or guests to place their drinks. To complement the chairs, we've chosen a low, round nesting table. The curved leg frames emulate the curved lines of the Manutti chair and, as they are so thin, they perfectly balance out the chunkiness of the chair.
Finally for a stylish, modern look, accessorise your Brushed Basalt deck with warming wood accents, such as the Round Herringbone Trays available from Cherish Home. The various tones of the wood coupled with the trendy herringbone pattern beautifully contrasts with the cool colour of Brushed Basalt, offering a confident, contrasting juxtaposition of the two materials.
Beautiful textured glassware is bang on trend, with a touch of a vintage appeal. We like the Ferm Living Ripple Glassware set, which includes a carafe and glasses. When placed atop of the herringbone trays, it creates a sophisticated, traditional feel.
Finally, complement the whole look with cushions and blankets ready for the cooler evenings. Go for complementing colours, such as blues or creams, or be bold and opt for a contrasting colour such as yellow or pink.
How do you style your Brushed Basalt deck? We would love to see. Send your photos in to marketing@millboard.co.uk for a chance to feature!
By submitting your images, you are happy to share them with Millboard and for these to be used in business communications and marketing material.